Although we didn't get our daffodils from the Ministry this year (they somehow left us off the list!), Mrs. Boekhout had saved lots of the bulbs from last year AND she bought some special "Happy Canada 150" red and white tulips that came right from Holland!   In the Fall, we learned about bulbs and how they grow.  Then we planted our bulbs.  We also learned about the life cycle of Mason Bees.  They are Solitary Bees, so they don't make a hive.  The females almost never sting, and the males can't sting at all!  That's nice!  Mason Bees are one of the first insects to come out in Spring, and they are important pollinators.  Mrs. Boekhout keeps the cocoons over the summer, washes them in Fall, and then tucks them away over the Winter in a cool, but not freezing, place.
Early Spring is also the time when we get our Mason Bees ready to "wake up".   Our wonderful "Mason Bee Man", Pasquale, came into the class to tell us more about the bees.  He showed us how to "roll" paper straws for the bees to use for their eggs.   Mason Bees pack a pile of pollen in the tubes first, then they lay just one egg and they build a little mud wall… all inside the straw!  Every egg has its own little bedroom!  Our job was to get the straws ready.  Pasquale hand-made a special Mason Bee house for our class the year before!  He painted it beautiful colors, and made little "cubbies" in it. He opened up one of the cocoons for us to see, and hold, a live Mason Bee!  The rest of the cocoons went in a little box.  We put the little box inside the Bee House and then waited… not very long… to see the first bees emerge!  We cheered and clapped for them!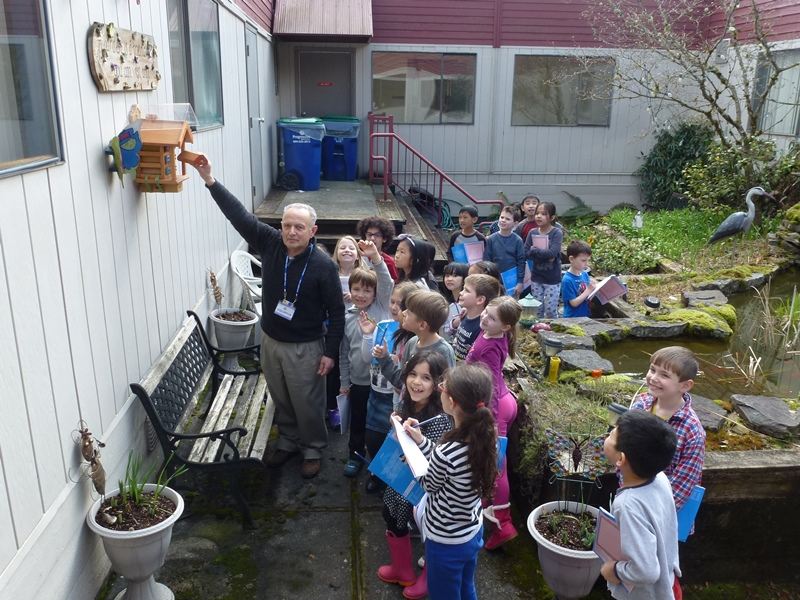 Later on, but still in Spring, we were SO excited when our bulbs started to pop up out of the soil!  When our beautiful flowers started to open, we learned more about the anatomy of a flower and the daffodil life cycle.   We couldn't wait to go outside to sketch them! They made the Sanctuary look SO BEAUTIFUL!
Here is a SlideShow of us at both our fun times in the Sanctuary!
Can you remember where YOUR Daffodils were?