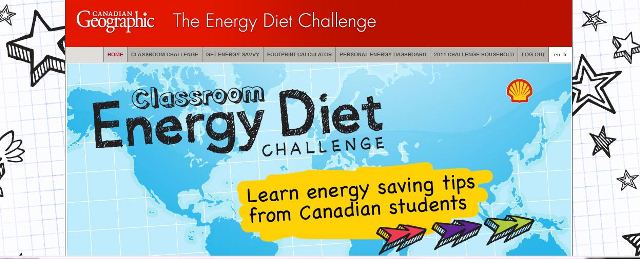 PLEDGE FORM – (You will need an email address.)

You might think of cutting down on sticky cupcakes and sweet soda pop when we say the word "diet", but Classroom2Kids has been working on an ENERGY DIET with  Canadian Geographic!  The Challenges are fun and involve lots of SCIENCE, MATH, and ENVIRONMENTAL studies… but that's not why Mrs. Boekhout started the class on this project… she started it because Classroom2kids could never remember to SHUT THE DOOR when they went outside to play!  It's been really cold, too! Brrr! A lot of HEAT ENERGY would go flying out the door with the students!
We aren't close to the top in total number of points… and we can only imagine how much learning those students have done, but we ARE proud to say that we are NUMBER 17 in points out of over 250 CLASSES in Canada, grades K to 12! (Here is a map of the participants.)  Add that to the fact that dozens more classes signed up for the challenges and never even started!
So far, we have done 7 challenges: Buckle Up (making wise transportation choices), Post It (putting up posters that promote good energy use), What's for Lunch (tracking how where the food comes from), Drew's One Hour No Power (we did two hours!), Making the Energy Grade (doing an energy audit in our classroom, improving what we could, and then re-auditing to see the difference), Get Growing (learning about the importance of photosynthesis and growing our own plants), Water Works (calculating how much water we use each day and thinking of ways to not waste water).  We have started "Energy Needs and Wants" (what uses energy but is "entertainment" or "easy" rather than "necessity") and over Spring Break we will be trying to give up one "energy want" for a whole week!
What can YOU DO?
Can you walk or take the bus instead of always taking the car?
Can you remember to turn off lights,
wear a sweater instead of turning the heat up,
unplug things you aren't using?
Can you turn off the tap while you brush your teeth?
You can help our earth by making just one pledge to save energy too!
You can help us earn points by using our pledge form to do it!
Students… get the whole family involved!
Parents… help out by providing an email address!
Everyone… you can HELP our EARTH save energy!
PLEDGE FORM – (You will need an email address.)

We hope you will sign up… not sign out!