Like so many people all around the world, we participated in a Terry Fox Run to show our support for the need to find a cure for cancer.  Actually, our school has grown so much in the last couple years that we had 3 separate runs!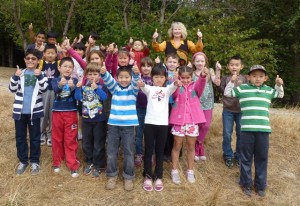 Almost everyone in the class knew someone in their family or a family friend who has had cancer.  Some were lucky enough to survive but many did not.  We all thought about who we were running for.  Mrs. Boekhout had three special people to run for this year.  Dear Mrs. Raabe, a past Nestor teacher and a personal mentor for Mrs. Boekhout, sadly lost her 2 1/2 year battle this year; Ashley Brear, the 20 year old daughter of a fellow teacher, who still managed to create a wonderful annual fund raiser called "Keep on Swimming";  and Brekke Harrison,  one of Mrs B's students who dearly hoped to get to go to grade 3 (and she did!), you can see her special plaque in our Sanctuary courtyard.
Running around the school or making donations (we collected over $55 in our class!) are not the only ways we can honor the memory of Terry Fox though.  It was the SPIRIT of this brave young man that we should keep with us!  No matter what we are doing, we should always TRY OUT BEST!
Mr. Della Vedova taught the school a special song to remember Terry's spirit.  When Terry was asked how he could possibly run when it was so difficult, he replied, "A step at a time, a mile at a time, a corner at a time, just take another step and keep on going! " 
What great spirit!
P1030737 from Nora Boekhout on Vimeo.